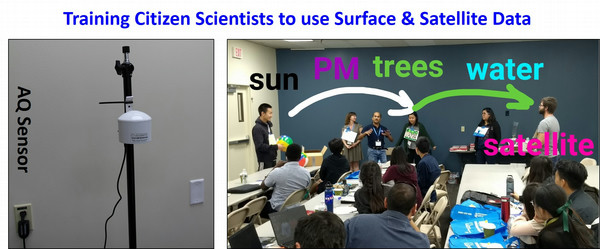 NASA / RTI International
Air Quality Citizen Science
0
Free
Indoors and outdoors
Increase network of particle (PM2.5) sensors and air quality literacy
Citizen Science
Astronomy & Space
Ecology & Environment
Climate & Weather
citizen science monitoring
low cost sensors
air quality
air quality monitor
purpleair
nasa
More Information
Get to know our project by watching our webinar from December 2018!
https://www.youtube.com/playlist?list=PL6li8nXqkK7OaUy7PPP3rfmDCQjNQMHJq
The overall goal of the project is to collect spatially dense, quality PM2.5 data (fine atmospheric particulate matter which can be a health hazard to some when levels are high) using low-cost sensors deployed by citizen scientists. By employing citizen scientists and low-cost sensors, our goals are to:
• Test and demonstrate the feasibility of a sustainable cost-effective air quality sensor network that can be successfully deployed.
• Motivate citizen scientists to continue these measurements, take ownership of the Air Quality (AQ) around them, increase public awareness and take personal measures to minimize pollution and lower harmful exposure.
• Improve the value of satellite datasets from NASA missions through improved scientific understanding, and more importantly, generate widespread usage of NASA data and tools by motivated citizens, effectively creating a new generation of scientists.
Ticket Required: No
Minimum Age: 13
Languages: English