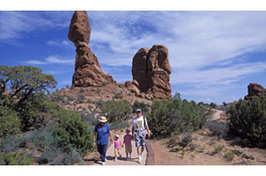 Geoscientists-in-the-Parks
Help the NPS understand and manage its natural resources.
Citizen Science
Animals
Biology
Birds
Ecology & Environment
Ocean Water Marine
Chemistry
Nature & Outdoors
Geology & Earth Science
Education
Astronomy & Space
Insects & Pollinators
Computers & Technology
gis
natural resources
field biologist
geoscience
national park service
More Information
The Geoscientists-in-the-Parks Program hires geoscience and other natural resource science students and recent graduates for 3 months to one year to conduct scientific research, inventorying and monitoring, and education and outreach projects in national parks. This important work helps the National Park Service better understand and manage its natural resources and communicate science to park visitors.
Participants may assist with research, synthesis of scientific literature, geologic mapping, geographic information system analysis, site evaluations, resource inventorying and monitoring, impact mitigation, curation of natural resources, developing brochures and media presentations, and educating park staff and park visitors.
Individuals selected for the program have a unique opportunity to contribute to a variety of important natural resource science projects. Parks benefit from a participant's knowledge and skills in geological or other natural resource sciences, while each participant gains valuable experience by working with the National Park Service. Each participant receives a weekly stipend, housing or a housing allowance, and a small travel allowance. Participants with all levels of experience are encouraged to apply.
Ticket Required: No
Minimum Age: 13
Languages: English