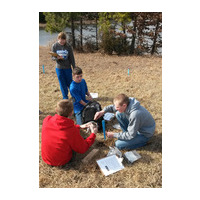 Donald Danforth Plant Science Center
MO DIRT - Missourians Doing Impact Research Together
0
Free
Indoors and outdoors
Soil health education and monitoring with Missouri citizens.
Citizen Science
Education
Geology & Earth Science
Climate & Weather
Ecology & Environment
Biology
Computers & Technology
Food
Chemistry
Agriculture
Animals
Nature & Outdoors
dirt
ecology
soil
soil health
missouri
enviroment
soil-climate interactions
More Information
MO DIRT Missourians Doing Impact Research Together, is a state-wide program supported by the National Science Foundation through the Missouri EPSCoR, with the goals to educate Missouri citizens on soil science and soil-climate interactions. The components of MO DIRT are:
A state-wide soil health survey. Monthly soil health surveys are conducted by volunteer citizens measuring physical, chemical and biological characteristics of soils at test sites. Currently, there are 53 test sites with the participation of more than 600 citizens. Test sites include forest, prairie, grassland, pasture and cropland habitats.
New grade K-12 soil science curricula. A manual with hands-on activities on physical properties of the soil is available for elementary and middle school students.
Mentoring of high school scientists. Research profiling microbial communities in Menfro soil from till and no-till croplands was conducted by a high school student.
Public enrichment in soil science. Hands-on soil activities have been offered at agricultural education days at MU Research Stations, Earth Day events, Boy Scout camps, the Saint Louis Science Center, Master Naturalist's advanced training, and teacher's professional development workshops.
Over 3,000 Missourians have benefited from MO DIRT since August 2014, with the collaboration of more than 35 institutions. A website (modirt.missouriepscor.org) offers access to educational and training materials and the data collection portal of the soil health surveys.
Ticket Required: No
Minimum Age: 13
Languages: English