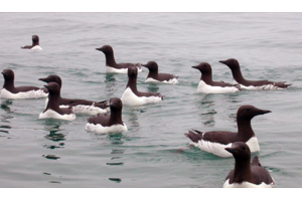 Seattle Audubon Society
Puget Sound Seabird Survey
Gather valuable data on wintering seabirds in Puget Sound.
Citizen Science
Ecology & Environment
Nature & Outdoors
Animals
Birds
Ocean Water Marine
Biology
monitoring
seabird
ecology
bird
surveys
wildlife survey
seabirds
ornithology
bird watching
monitor
birding
birdwatching
survey
More Information
Volunteer birdwatchers with the Puget Sound Seabird Survey gather valuable data on wintering seabird populations in Puget Sound and the Strait of Juan de Fuca. The project is organized by the Seattle Audubon Society.
During monthly winter surveys from October to April, volunteers identify and count birds from the Puget Sound shoreline using a protocol designed by leading seabird researchers. Volunteers count all species of coastal seabirds including geese, ducks, swans, loons, grebes, cormorants, gulls, terns, and alcids. These data will be used to create a snapshot of seabird density on more than 2,400 acres of nearshore saltwater habitat.
Puget Sound Seabird Survey is the only land-based, multi-month survey in the Puget Sound region.
Ticket Required: No
Minimum Age: 13
Languages: English