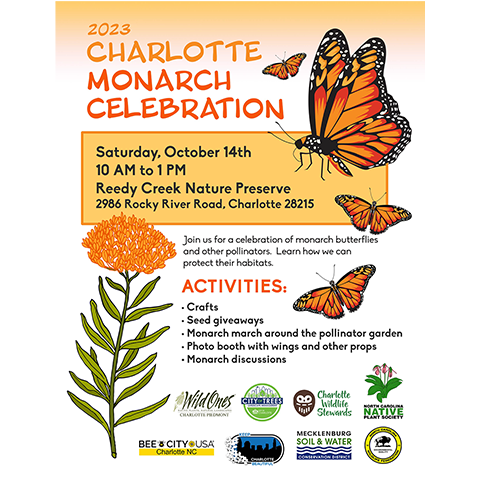 City of Charlotte Landscape Management, Keep Charlotte Beautiful, Wild Ones, NC Native Plant Society, NC Wildlife Federation, Charlotte Wildlife Stewards, Meck Soil & Water Conservation District
2023 Charlotte Monarch Celebration
Free family event to raise awareness about pollinator conservation, particularly for the Monarch butterfly.
Reedy Creek Nature Preserve at 2986 Rocky River Rd, Charlotte, NC, 28215, USA
see on map
Finished 10/14/2023, 5:00:00 PM
Citizen Science
Community
Festival
Live Science
Outreach
Animals
Biology
Ecology & Environment
Education
General Science
Insects & Pollinators
Nature & Outdoors
Conservation
Reedy Creek
Bee City
Family
Monarch Migration
Monarch Celebration
Habitat
Monarch butterfly
Pollinators
Nature
citizen science
Garden
kids
More Information
Join us for a celebration of monarch butterflies and other pollinators and learn how we can protect their habitats. This is a free event with giveaways, crafts, and fun activities for all ages.
Ticket Required: No