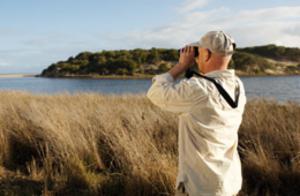 With Australian birds facing so many pressures, it's crucial that we collect the information needed to identify and address those threats. Birdata provides the platform to collect the scientific data that researchers use to help keep Australian birds safe.
Citizen Science
Birds
animals, ecology & environment, biodiversity, nature & outdoors, birds
More Information
Birdata
Originally developed in 2005, the Birdata website has provided an online platform for volunteers and researchers to enter bird survey information data and gain feedback about their surveys. A major revamp of Birdata has allowed us to offer this critical conservation tool in the form of a handy, easy-to-use app for both Android and iPhone.
The Birdata app is intended to facilitate simple data entry on mobile devices and provides basic reporting functionality. The Birdata website enables volunteers and researchers to enter bird survey data and gain feedback about their surveys. This web portal has enhanced reporting and data management functionality for your personal data as well as the whole dataset. Our handy, easy-to-use iPhone(https://itunes.apple.com/au/app/birdata/id993576820?mt=8) and Android (https://play.google.com/store/apps/details?id=au.org.birdlife.birdata&hl=en&utm_source=downloadatoz.com) apps facilitates simple data entry on mobile devices and provide basic reporting functionality.
A Long-term Monitoring Project
The Atlas is one of BirdLife Australia's greatest resources, allowing us to track changes in birds across the country. Since 1998 a dedicated band of over 7000 atlassers have amassed over 420,000 surveys, comprising over 7.1 million bird records.
Unlike most Atlases conducted around the world which collect data in grids, observers are asked to give the precise coordinates of where they undertook their survey. Knowing this information adds greatly to the value of the data and allows observers to go back to that precise location and conduct repeat surveys. With large numbers of observers collecting data, the Atlas provides a good insight into the changes in bird populations over time.
Ticket Required: No
Minimum Age: 13
Languages: English