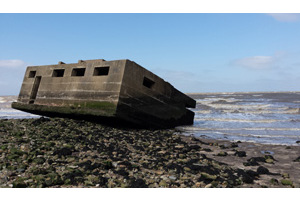 MOLA (Museum of London Archaeology)
CITiZAN (Coastal and Intertidal Zone Archaeological Network)
To respond to the threat to England's coastal archaeology
Citizen Science
Nature & Outdoors
Computers & Technology
Archaeology & Cultural
Ecology & Environment
Ocean Water Marine
Climate & Weather
archaeology
intertidal
survey
heritage
citizen science monitoring
app
coastal
storms
england
More Information
CITiZAN is a national community-led project to tackle the alarming threat to England's coastal and intertidal heritage from tides, storms and rising sea levels.
Training and working with volunteers, CITiZAN surveys and monitors these nationally-important but vulnerable archaeological sites before they disappear. Armed with tape measures, buckets and mobile phones, volunteers create standardised records of exposed archaeological sites on the CITiZAN coastal survey app.
Hosted by MOLA (Museum of London Archaeology), the CITiZAN project is funded by the Heritage Lottery Fund, the National Trust and The Crown Estate, together with support from Historic England.
The three-year project operates across England from regional centres: with MOLA in London, with partners the Council for British Archaeology in York and the Nautical Archaeology Society in Portsmouth.
For more information about CITiZAN and local training opportunities and events visit the CITiZAN website citizan.org.uk. Download the IPhone and Android CITiZAN app via ITunes or Google Play.
Ticket Required: No
Minimum Age: 13
Languages: English