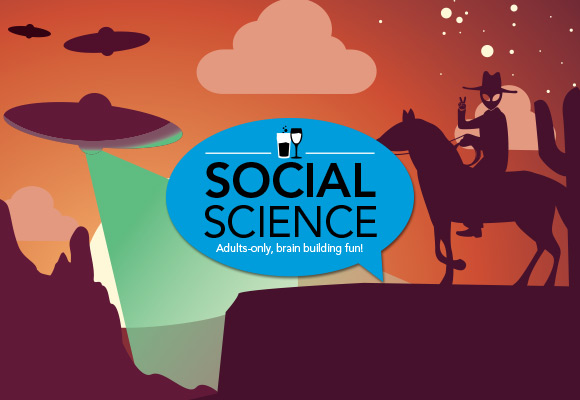 Terry Lee Wells Nevada Discovery Museum
Social Science: Cowboys & Aliens
Saddle up to explore the original and the final frontier all in one exciting night
The Discovery NV
490 S. Center Street
Reno, NV
United States
see on map
Finished 6/11/2023, 6:00:00 AM
More Information
Saddle up to explore the original and the final frontier all in one exciting night. Get hands-on with science and fun inspired by the wild west and galaxies far, far away. Conquer a buckin' bronc, play with alien slime, test your ranch hand skills, and more! Cowboys, cowgirls and city-slickers are all invited to attend!
Labs, lectures and experiences at this Social Science will include:
Mending Fences
Round up a team of four to compete in this relay-style race to mend a fence before the other team. The first team to finish wins a prize!
Eight Seconds
Calling all buckaroos and buckarettes. Take your chance at riding eight seconds (or more) on the one-and-only mechanical Crazy Bull.
Rope em' Cowboy
Use science to your advantage when you try your hand at the age-old art of roping a dummy steer.
Boot Scootin' Boogie
Kick up your boots and some dust when you take a line dancing class taught by local boot-scootin' expert Sara Brewer.
The Hot Iron
Stand out in the herd when you create your own custom brand using temporary tattoos. Don't worry, this won't hurt a bit.
Take Aim
Build a custom marshmallow shooter and take care of business when aliens or outlaws wage their attack.
Galactic Slime
Learn some materials science while playing with some out-of-this-world magnetic slime.
Wandering Aliens
Create an alien bristle bot and let the invasion begin as you create a simple circuit for the race of a lifetime. The fastest rovers will win a prize!
I Love This Bar
Hang out in Under The Stars and enjoy a bonus drink at the one-and-only "UFO Saloon," where cowboys, cowgirls, and aliens co-exist in scientific sips of booze.
Pressure Cooker
Do you have what it takes to answer five trivia questions correctly in 20 seconds? Step up to the pressure cooker and test your knowledge on everything from cowboys, to Area 51, and anything else we choose! Grab a prize with a passing score or do the walk of shame!
Space Raffle
Toss your name in the hat for a chance to win an out-of-this-world gift basket full of goodies, wine, beer, and more! Courtesy of our partners at Waste Management. Winner will be announced at 9:45pm. Must be present to win.
Due to the popularity of this event, we strongly recommend that you purchase tickets in advance as capacity is limited and may sell out.
Social Science is The Discovery's wildly popular adults-only, brain building event series featuring science demonstrations, hands-on labs, expert presentations, music, libations, and tasty bites.
Ticket Required: No
Languages: English