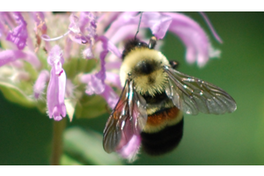 Department of Entomology, University of Illinois
BeeSpotter
Gather information on the population status of bees.
Citizen Science
Insects & Pollinators
Ecology & Environment
Nature & Outdoors
Animals
Biology
bumble bee
bee-friendly garden
girl scouts
missouri
pollinators
bumble bee keys
honey
university of illinois
ccd
honey bee keys
colony collapse disorder
native plants
may berenbaum
bee stings
illinois
summer reading 2021
honey bee
ohio
bee mimics
More Information
BeeSpotter needs volunteers to go outside with a camera or smartphone and capture quality photos of bees! Researchers at the University of Illinois are trying to better understand bee demographics in the Midwestern states of Illinois, Missouri, Indiana, & Ohio, and they need your help. Your data will become part of a nationwide effort to gather baseline information on the population status of these important pollinators.
BeeSpotter is a partnership between citizen scientists and the professional science community. The project is designed to educate the public about pollinators by engaging them in a data collection effort of importance to the nation.
Ticket Required: No
Minimum Age: 13
Languages: English