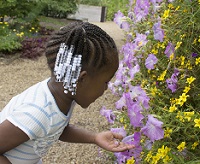 Chicago Botanic Garden
Budburst
Help scientists by observing seasonal changes in plants.
Citizen Science
Climate & Weather
Biology
Education
Nature & Outdoors
Ecology & Environment
Geography
nativars
plant phenology
phenology
ec2020
seasons
botany
pollinators
climate change
More Information
Add your plant phenology observations to Budburst's sixteen years of data! Contribute to help understand how plants and ecosystems respond to environmental change. Budburst (formerly Project BudBurst) is a national network of citizen scientists monitoring plants as the seasons change. Free instructional materials are available to support implementation in a variety of educational settings - Budburst is perfect for classroom learning or family fun.
We have three on-going research projects: Phenology and Climate, in which participants can observe plants going through seasonal changes; Pollinators and Climate, in which participants document pollinator visitation to flowering plants; and Milkweeds and Monarchs, in which participants search for monarch caterpillars and eggs to help preserve the monarch population.
Every observation from all across the country helps us answer questions about how plants are being impacted by climate change. Join Budburst and submit data from your phone - it's as easy as snapping a picture!
Ticket Required: No
Minimum Age: 13
Languages: English