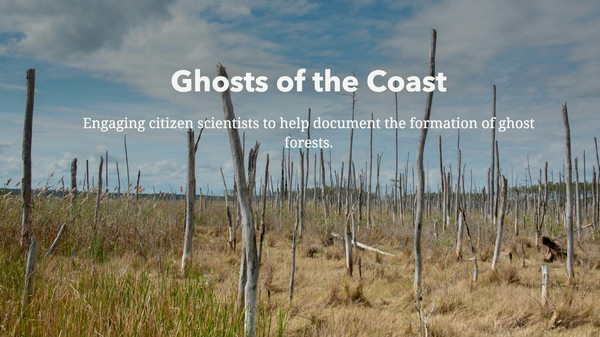 Ghosts of the Coast
0
Free
Indoors and outdoors
Document the formation of ghost forests.
Citizen Science
Ecology & Environment
Education
Ocean Water Marine
disturbance
blue crab
east coast
wood
mullica river estuary
storm
climate change
geography
wetlands
storymap
low elevation
land conversion
sweet gum
mid atlantic
coastal education
cedar
gedan lab
south carolina
maryland
salt tolerant plants
eastern shore
prime hook national wildlife refuge
estuary
salt
marsh migration
florida
coastal marine ecology
ghost forest
virginia coast reserve
cattus island
changing landscape
rising seas
dying trees
survey123
tree death
salt stress
coastal
changing shoreline
hurricane
groundwater
maritime forest
delaware bay
coastal ecology
phragmites
salt water
salt tolerant
regeneration
soil
saltwater marshes
blackwater national refuge
tidal inundation
forest
keryn gedan
cordgrass
delmarva peninsula
bleached trees
saltwater
spartina patens
sap
wildfires
flooding
chesapeake bay
salt water intrusion
drought
ghosts of the coast
tree stump
global warming
tide
new jersey
stump
marsh
new york
killing trees
north carolina
seawater
marine
pine
the george washington university
georgia
sawgrass
tributaries
dead trees
ecology
virginia
riverbank
saline
saltwater marsh
delaware
flood
somerset county
sea level rise
geology
swamp
shoreline
dying forest
black needle rush
More Information
The formation of ghost forests in response to sea level rise, land subsidence, and saltwater intrusion is a striking visual indicator of climate change. Ghost forests are characterized by lingering stands of dead trees that were recently killed by salt stress. Ghost forests can form in any type of forest, but the formation of ghost forests in the maritime forests of the Mid-Atlantic sea level rise hotspot has been rapid and conspicuous.
We are engaging citizen scientists to help document the formation of ghost forests at a larger scale. The goal of this initiative is to raise awareness about the pace of change in coastal landscapes, while also collecting data that can inform ghost forest research.
Help us document ghost forest formation! Your recorded observations will populate a public collaborative ghost forest map as part of a larger ghost forest website.
Ticket Required: No
Minimum Age: 13
Languages: English