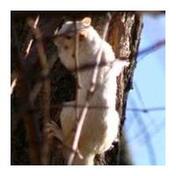 Help scientists locate and study white squirrels.
Citizen Science
Nature & Outdoors
Animals
Biology
squirrel
More Information
Have you seen a white squirrel? Join this community of white squirrel enthusiasts to help scientists locate and study these rare animals!
Most squirrels are gray or red, an adaptation that allows them to blend in to the surrounding vegetation. This is a case of classic natural selection, the driving force behind evolutionary change. The trait for being white is a genetic anomaly that is usually weeded out because they are so quickly seen by predators. However, some places have seen a growing population of white squirrels.
Keep your eyes open because there are lots of places where you can find this rare squirrel variety. Scientists have created a map where visitors that have seen a white squirrel can map it.
Ticket Required: No
Minimum Age: 13
Languages: English