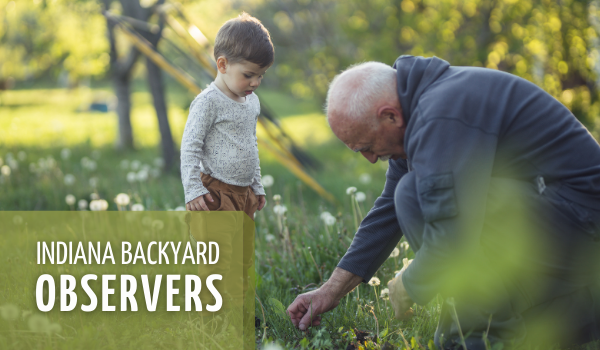 Indiana Phenology
Indiana Backyard Observers
0
Free
Indoors and outdoors
Monitor the phenological events of plants & animals in Indiana.
Citizen Science
Nature & Outdoors
Climate & Weather
Ecology & Environment
prairie
learn
find
middle
pollinator
flower
animal
watch
fish
elementary
restoration
changes
legislation
teach
policy
lizard
child
forest
land
tree
conservation
lake
management
agriculture
grass
frog
field
seasonal
fen
change
salamander
forestry
reptile
insect
kid
swamp
education
butterflies
class
bog
trip
restore
autumn
seasons
squirrel
fall
children
bird
water
creek
snake
record
research
river
pond
conserve
invasive
winter
raccoon
climate
app
season
phenology
high
school
spring
newt
bee
monitor
species
observe
track
plant
dune
native
shrub
kids
mobile
butterfly
stream
mammal
summer
amphibian
wetland
More Information
Hoosiers of every age are invited to be stewards of the environment - and you don't have to leave your house! Observe birds in the winter through the window from the comfort of your couch, track changes in plants in your backyard, or just keep an eye out for butterflies on your lunch break!
Indiana Backyard Observers offers the chance for everyone to observe and record the seasonal changes in nature - called phenophases - to help scientists, land managers, farmers, and policymakers make informed decisions about our environment.
Whether you're looking for a way to help solve the challenges of climate change or if you want to help the fight against invasives - or if you just really love to be outdoors - Indiana Backyard Observers is a great project for you!
Observers can use a phone or tablet to record their observations on the free Nature's Notebook app. You don't need service for your device! Once you're done observing, find a place with free WiFi and sync your observations. Alternative, you can use datasheets to record your observations and manually enter them on a computer with internet access.
Ticket Required: No
Minimum Age: 13
Languages: English